David Bellugi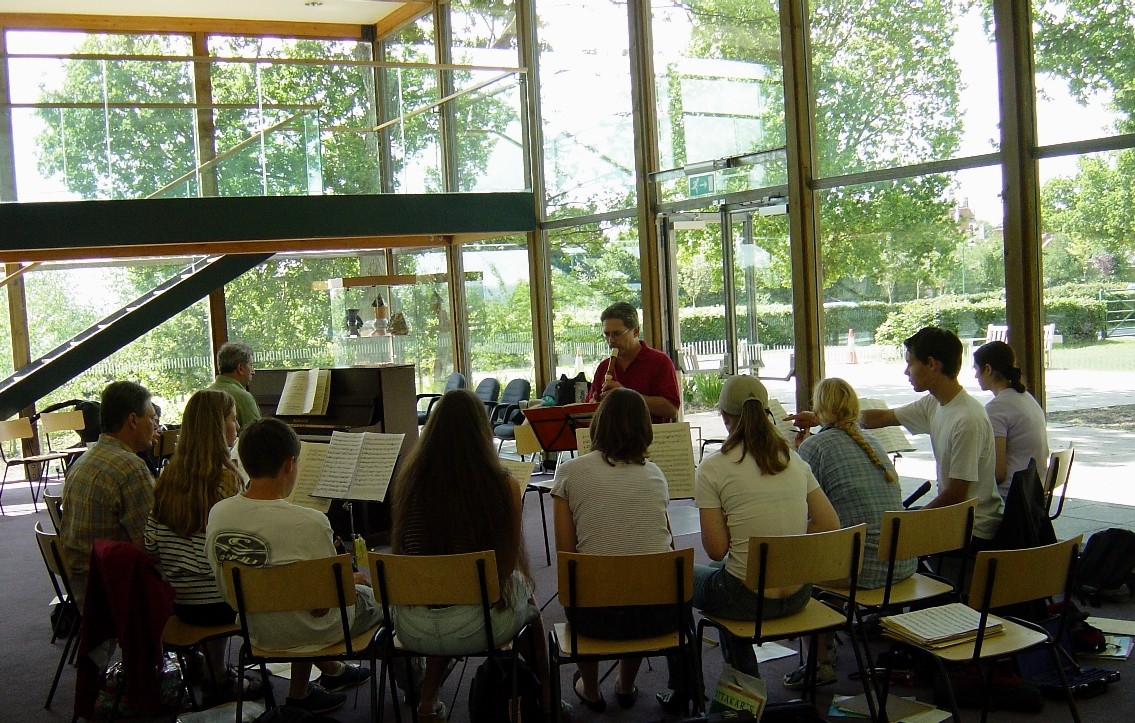 David Bellugi teaches recorder at the Cherubini Conservatory in Florence, Italy. Most of the photographs on the Summer School pages were taken by David during the 2001 Dolmetsch Summer School. The other photographs were taken by Denis Bloodworth and John Everingham.
David maintains an archive of many of these and other pictures at:
Dolmetsch Summer School 2001
Dolmetsch Summer School 2002
Dolmetsch Summer School 2003
Dolmetsch Summer School 2004
Dolmetsch Summer School 2005
Dolmetsch Summer School 2006
Dolmetsch Summer School 2007
and maintains his own comprehensive web site.
Click here to e-mail David Bellugi.
---
David Bellugi
David Bellugi è solista di flauto dolce, esperto di Sound Designer e fondatore e socio (con 5 altri musicisti) della casa discografica fiorentina,
Nato negli USA, si è diplomato in Musicologia Applicata con Bertram Turetzky presso l'Università della California-San Diego dove ha studiato flauto con Bernarhdt-Ambros Batschelet, composizione con Bernard Rands e Robert Erickson, clavicembalo con Anthony Newman, direzione d'orchestra con Thomas Nee, proseguendo le sue ricerche sulla musica antica con A. Geoffroy-Dechaume a Parigi (allievo di Arnold Dolmetsch).
Si è presentato come solista con molte orchestre tra cui: l'ORT-Firenze, Radio France-Parigi e Lille, Radio della Svizzera Italiana-Lugano, Pomeriggi Musicali-Milano, Orchestra da Camera di Padova, RAI-Torino e Harvard University; ed in recitals in Australia, Austria, Belgio, Canada, Francia, Grecia, Inghilterra, Israele, Italia, Portogallo, Scozia, Spagna, Stati Uniti e Svizzera.
Ha presentato numerose opere in prima esecuzione assoluta. I compositori Berio, D'Angelo, De Angelis, Khacheh, Locklair, Luciani, Porena, Prosperi e Viozzi gli hanno dedicato delle proprie opere.
Da più di 20 anni risiede a Firenze dove è titolare della cattedra di Flauto Dolce presso il Conservatorio "Luigi Cherubini".
---
David Bellugi
David Bellugi es virtuoso de la flauta dulce, tanto como concertista como músico del estudio, es tambien entusiasta del aficionado de Macintosh, ingeniero de sonido (Sound Designer editor).
Nacido en los EEUU, recibió la licenciatura en Musicología Aplicada con mención Summa con Laude/ con sobresaliente de la Universidad de California en San Diego donde estudió con Bernhardt-Ambros Batschelet (flauta), Robert Erickson y Bernard Rands (composición), Anthony Newman (clavicémbalo), Thomas Nee (dirección de orquesta), y Bertram Turetzky Consejero en/de musicologíá. (advisor for musicology) Continuó sus investigaciones musicológicas sobre los métodos de interpretación de la música antigua bajo la dirección de Antoine Geoffroy-Dechaume en París (él mismo alumno de Arnold Dolmetsch, pionero en la música antigua).
Como soloista David ha trabajado con muchas orquestas, que incluyen RAI de Turín, Radio Francia-París, Radio Francia-Lille, Radio della Svizzera Italiana, además de con las orquestas de Bari, Cagliari, Cordoba, Emilia-Romagna, Florencia, la Universidad de Harvard, Milano, Padova, Palermo, Sanremo y Turín. Ha actuado en?? recitales y conciertos-conferencias en Australia, Austria, Bélgica, Canadá, Inglaterra, Francia, Alemania, Grecia, Israel, Italia, Portugal, Escocia, España, Suiza y en los EEUU. Ha estrenado diversas obras y Luciano Berio, Nuccio D'Angelo, Ugalberto de Angelis, Dan Locklair, A. Riccardo Luciani, Carlo Prosperi, y Giulio Viozzi han todos dedicado obras a Bellugi). Ha tenido tambien mucho éxito con sus actuaciones como director-soloista. Bellugi da clases de flauta dulce en el Conservatorio "Luigi Cherubini" en Florencia, Italia.
---
David Bellugi
Italo-Américain, David Bellugi est un virtuose de la flûte à bec, tant en concert qu'en studio.
Enthousiaste de Macintosh, il est l'ingénieur du son et le copropriétaire de la maison de d'enregistrement et d'édition basée à Florence.
David a un B.A. en Musicologie Appliquée qu'il a reçue avec mention Summa cum Laude de l'Université de Californie à San Diego, où il a étudié avec Bernhardt-Ambros Batschelet (la flûte), Robert Erickson et Bernard Rands (la composition), Anthony Newman (le clavecin), Thomas Nee (la direction) et Bertram Turetzky ( conseil en musicologie).
Il a continué ses recherches en musicologie en performance de musique baroque avec Geoffroy-Dechaume à Paris (lui-même un élève du pionnier en musique baroque, Arnold Dolmetsch). En tant que soliste David a joué avec un grand nombre d'orchestres incluant : le RAI-TORINO, Radio France- Paris Radio France- Lille, Radio Della Svizzera Italiana, aussi bien qu'avec les orchestres de Bari, Cagliari, Cordoba, Emilia-Romagna, Firenze, Université de Harvard, Milano, Padova, Palerme, Sanremo et Torino.
Il a donné des récitals et des conférence-concerts en Australie, Autriche, Belgique, Canada, Angleterre, France, Allemagne, Grèce, Israël, Italie, Portugal, Écosse, Espagne, Suisse et aux États-Unis.
Il a présenté en première mondiale les oeuvres de Luciano Berio, Nuccio D'Angelo, Ugalberto d'Angelis, Dan Locklair, A. Riccardo Luciani, Carlo Prosperi. Giulio Viozzi a écrit des ouvres spécialement pour Bellugi).
David Bellugi enseigne la flûte à bec en l'Italie. au Conservatoire de Florence "Luigi Cherubini".
---
David Bellugi
David Bellugi ist ein virtuoser Konzert und Studio-Musiker, Sound Designer und Teilinhaber der Florence-based record company.
David hat ein B.A. in angewandter Musikwissenschaft welches er Summa cum Laude an der University of California in San Diego erhielt, wo er mit Bernhardt-Ambros Batschelet (Querflöte), Robert Erickson und Bernard Runds (Komposition), Anthony Newman (Cembalo), Thomas Nee (Dirigent), und Bertram Turetzky (Musikwissenschaft) studierte. Er führte seine musikwissenschaftliche Forschung in "Early Music performance practices" unter der Anleitung von Antoine Geoffroy-Dechaume in Paris fort.
Als Solist spielte David mit vielen Orchestern bei Hörfunk-Sendungen wie etwa bei RAI-Torino, Radio France-Paris, Radio France-Lille, Radio della Svizzera Italiana.
Bellugi lehrt Blockflöte am "Luigi Cherubini" Conservatory in Florenz / Italien.
---