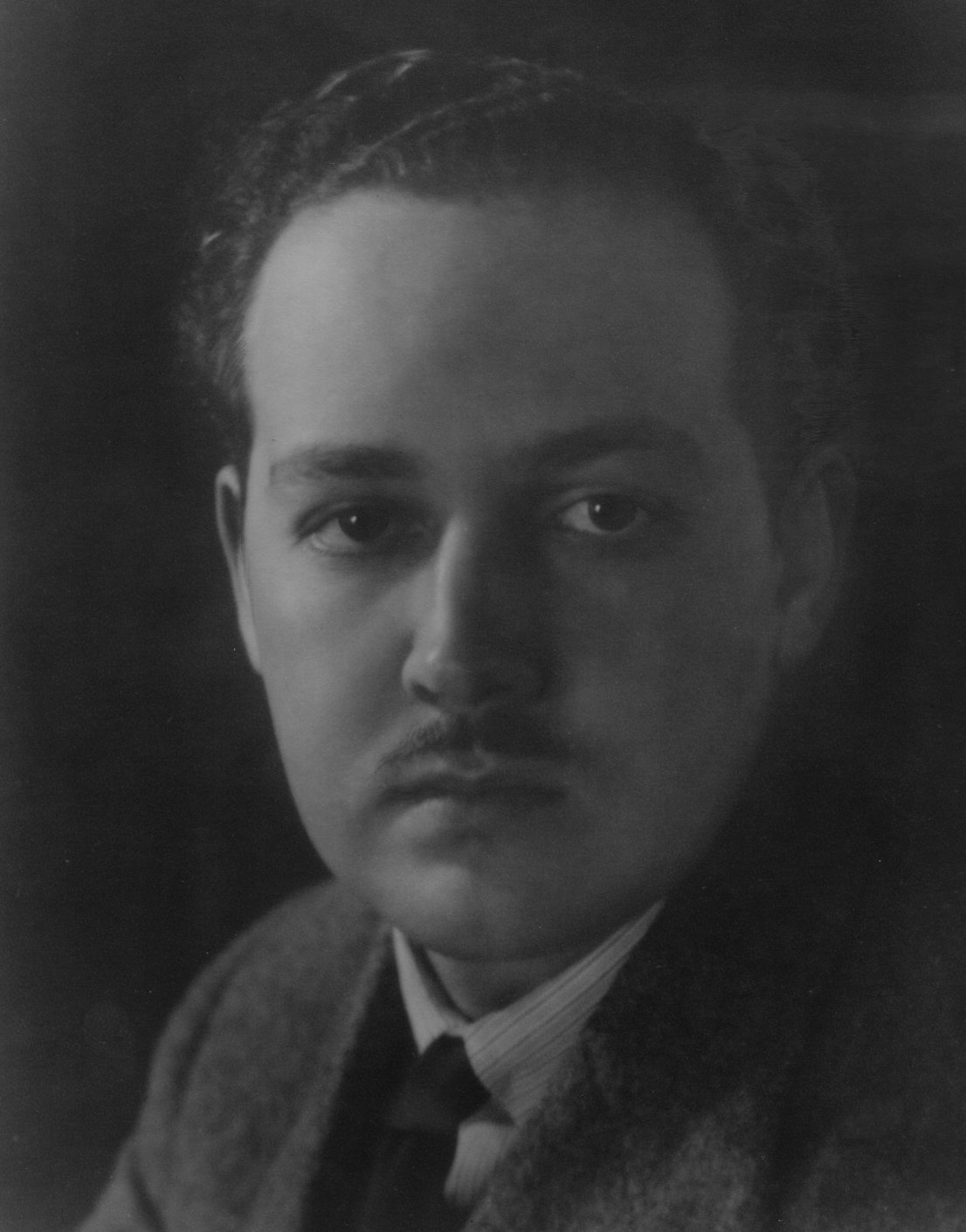 Rudolph Dolmetsch (1906-1942)
We are grateful to the late Richard Noble, former editor of The Consort, for providing much of the content printed below.
Rudolph Arnold Dolmetsch was born on 8th November 1906 in Cambridge, Mass. U.S.A.. He was the elder son of Arnold Dolmetsch. In 1911 the family left America for France and in 1914 came to England, where they finally settled down in the Surrey town of Haslemere.
He received his earliest training from his father and it was soon apparent that he was a naturally talented performer on keyboard instruments. He started his career at the age of five by playing the spinet in a Parisian Theatre. When he was still a little boy Sir Henry Wood (the founder of the Promenade Concerts) was most surprised by the way, on being given a completely strange figured bass, Rudolph was able to fill in the chords for the accompaniment at sight. He was to eventually establish himself as one of the foremost harpsichord players of the day (see below for samples of his recordings).
Since the age of fourteen, Rudolph had formed an orchestra of various Haslemere residents and people who worked in his father's Workshop where they restored and made replicas of old instruments. In 1929 he married Millicent Wheaton (also born in 1906), his viola da gamba pupil. She was teaching at Bedales Junior School (Dunhurst) where she would teach for nineteen years. He toured and gave recitals for solo Harpsichord and also recitals for Viola da Gamba and Harpsichord with his wife.
As time went on he broke away from the family tradition of ancient music performed on traditional instruments. After studying conducting with Constant Lambert for two years at the Royal College of Music he started an orchestra of about forty players, with Olive Zorian as its leader. His father, Arnold Dolmetsch, had always been very much against conductors of any sort and never lost the chance of running them down in public. Arnold Dolmetsch's 'run-ins' with leading conductors during the 1920s and 30s led Adrian Boult, who felt he had been slighted during an attendance at one of the early Haslemere Festivals, to refuse to have anything whatsoever to do with the book nor with anything 'Dolmetsch'. This reaction apparently caused Sir Henry Wood, who was a supporter of Rudolph, enormous amusement. Dolmetsch did not have problems with all conductors as the fascinating correspondence between Ernest Ansermet and Arnold Dolmetsch clearly shows.
Rudolph's first concert was in November 1938, which was well received, obtaining excellent press notices. He included composers such as Kodaly, Delius, Sibelius and Grieg.
The Observer Nov 1938
"The second half of Mr. Dolmetsch's programme consisted of Sibelius' 'Rakastava' Suite, Delius' two pieces for small orchestra and Haydn's Symphony No. 73 in D (La Choisse). Both 'Rakastava' Suite and Delius' 'First Cuckoo' were given balanced performances, the Sibelius vividly delicate and the Delius rich and sensuous. We enjoyed the restraint and sanity of all that he did as a musician"
Western Morning News Nov 1938
"Mr. Dolmetsch, who is better known as a harpsichordist, secured some delightful playing of delightful music and will, one hopes, appear again in his new capacity."
The News Chronicle 1938
" ... He was responsible, too, for producing in orchestral form Bach's 'Musical Offering', the gift he made to Frederick the Great. This is a set of scientific conundrums, but it is also splendid art, miraculous as artifice, magnificent as music."
Rudolph was able to give two more chamber orchestral concerts in London, the last being in February 1940. He was also arranging and composing and also published a handbook on Conducting. This too has good notices in the press and he received a letter from Bosworth & Co., the publishers, dated 30 December 1942 saying, "Dear Sir, We think it might interest you to know that Sir Henry J. Wood wrote for a copy of your book 'The Art of Orchestral Conducting'. Alas, Rudolph was never able to see this letter as it arrived after his ship had been torpedoed.
His first composition to be submitted to the B.B.C. (British Broadcasting Corporation) was called "Spring Tidings" and was broadcast in 1936, conducted by the composer. Another work, "Two Movements of a Symphony", was sent to the B.B.C. in London and was broadcast by the BBC Scottish Orchestra in 1952. The same work was performed in Moscow much later on, as it could be played separately or to follow Borodin's unfinished "Symphony No. 3 in A minor". It was also performed in Warsaw.
Several smaller works were performed by the Cape Town Municipal Orchestra in about 1946 and a Military Band Suite on Elizabethan tunes was broadcast by the B.B.C. Military Band in January 1941.
Directly the war started, he joined the Haslemere Home Guard and in 1940 was called up for Active Service in the Royal Artillery as a gunner. He was sent to anti=aircraft stations in different parts of the country. In Newquay in 1941 he started a series of music recitals and talks on 'Conducting' at a local hotel. Soon the recitals were held twice weekly and were a great success with attendence well over a hundred. He was finally posted overseas towards the end of 1942. It was not a troop ship, but a ship carrying specialists in various branches connected with war service, nurses, doctors, missionaries, etc. Rudolph was to take up a post as a Regimental Bandmaster.
In December 1942 he was posted as 'missing'. The ship, the 'SS Ceramic', was torpedoed in mid-Atlantic. After the end of the war Rudolph was presumed lost at sea while on Active Service.
Many of Rudolph's manuscripts and papers were acquired by the Library of The Royal College of Music as a bequest from Millicent Dolmetsch upon her death in July 1988. The catalogue and references are listed below:
Reference
Description, year of composition
5953
Concerto for Violin and Orchestra, 1942
5954
Concerto for Clarinet, Harp and Orchestra, 1939
5955
Concerto for Clarinet, Harp (above) accompaniment for two pianos, 1940
5956
Ground and Caprice for Orchestra, 1934
5957
Innisfallen Suite for Military Band, n.d. Score and Parts
5958
Two Movements of a Symphony, 1942 Score and Parts (written between 1940-42 and essential completing Borodin's Third Symphony in A minor)
5959
Pastoral Rhapsody for Orchestra, 1937 Score and Parts
5960
Spring Tidings for Orchestra, 1934 Score and Parts
5961
Sinfonietta for Orchestra, Op. 2 1933 Score and Parts
5962
Chinese Caprice, A Fantasy on Chinese folk tunes for Orchestra, 1939
5963
Concertino for Viola da Gamba and Small Orchestra, 1941
5964
Caprice for Solo Viola da Gamba, 1929
5965
Songs of Flight for voice and piano, 1939
1. The Airman (E Vine Hall)
2. The Seaplane (Louise Stewart)
3. The Airman demobbed (Cuthbert Hicks)
5966
Symphony No. 1 in D minor, Op. 1, 1936 (given as 1932 by Jürgen Schaarwächter)
5967
Symphony No. 2 in B flat, 1936
5968
Miscellaneous arrangements of music compiled by Millicent and Rudolph Dolmetsch
5969
Miscellaneous letters, programmes, press cuttings, promotional material and other material on or about Millicent and Rudolph Dolmetsch
Millicent Dolmetsch became something of a recluse following the death of her husband. Initially she was resistant to the promotion of Rudolph's music feeling that it was now out of fashion and would not be appreciated in an age in which tastes had definitely 'moved on'. Towards the end of her life, however, she was instrumental in encouraging the performance of some of the music and, through the good offices of Layton Ring, the Concertino for Viola da Gamba and Small Orchestra received a performance in Newcastle with Jane Ryan playing the solo part and a student orchestra accompanying.
Millicent had two sisters. One, ten years younger than Millicent, lived in Godalming and used to attend Dolmetsch family parties in the 1950s while the other married a Chinaman and moved to Spain.
Rudolph and Millicent had no children.
---
References:
Rudolph Dolmetsch (1906-1942): The First Modern Viola da Gamba Virtuoso by Adrian Rose; Chelys; Volume 21 (1992)
Die Britische Sinfonie 1914-1945. Köln: Musikverlag Christoph Dohr, 1995, pp. 253ff
BMS News 1974 - June 1997 page 40
Rudolph Dolmetsch recordings
Royal Academy of Music - Rudolph Dolmetsch Archive
Article by Adrian Rose about Rudolph Dolmetsch: see pp. 59-76
---