Dolmetsch Viols
Using traditional techniques and timbers seasoned for over twenty years, and well-established models (either the baroque models of Barak Norman and Henry Jaye or the renaissance patterns of early southern European masters), we made viols with an open, even, bell-like tone. Fingerboards, pegs and tailpieces are made in ebony or rosewood or in hard maple with hardwood overlay. A discrete amount of fine purfling might be applied to the belly and back. We used an oil varnish, 16 to 20 coats applied over 3 to 4 month period, to give the finest finish. All our viols were made in our Haslemere workshop by Malcolm Bailey, one of the country's finest luthiers.

We also rehaired bows and overhaul viols and other early stringed instruments. Since 2010 we have ceased making viols in our workshop.
We are happy to recommend Susan and Luke Challinor's strings for a whole range of stringed instruments.
They stock Northern Renaissance Instrument strings, Aquilla Unsplit Lambsgut strings and their own range of all gut high-twist strings.
Sue's email address is susan.challinor@ntlworld.com and her phone number is 07535 877050.
---
Prices (as at 2010)
Description
ex. VAT
Seven-Stringed Bass (baroque pattern)
£ 7,000
Six-Stringed Bass (baroque pattern)
£ 5,500
Six-Stringed Bass (renaissance pattern)
£ 4,800
Tenor Viol (baroque pattern)
£ 4,000
Tenor Viol (renaissance pattern)
£ 3,500
Alto Viol (baroque pattern)
£ 3,000
Treble Viol (baroque pattern)
£ 2,500
Treble Viol (renaisance pattern)
£ 2,400
Mioplant Currency Converter - download this desktop utility to find out prices in your own currency!
Exact price would have depended on the customer's specification.
---
Information about the viol
SIZES OF VIOLS, measurements (in centimeters) according to Nathalie Dolmetsch
Size/Model
Tunings (bottom to top)
String Length
Body Length
Pardessus d'Viol
(g)c'e'a'd''g''
33-33.5
31.5-33.5
Treble Viol
dgc'e'a'd''
35-35.5
35-39
Alto Viol
cfad'g'(c'')
35-40.5
35-41
Tenor Viol
(G)cfad'g'
45-52
47.5-53
Lyra Viol
variable
53.5-60
55.5-60
Division Bass
DGcead'
65-66
62.68
Bass Viol
(AA)DGcead'
68-70.5
68-71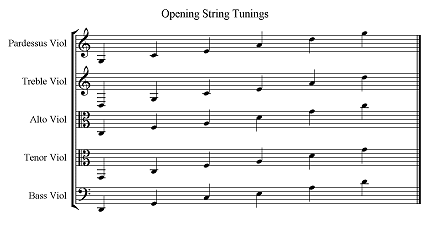 There was (is) a great variation in size, even between instruments of the same type. The letters in brackets identify strings that may not be present on all models of the given size. The low AA string is found on seven-string, but not on six-string bass viols.
The common consort of the viol family is made up of treble, tenor and bass. The pardessus was primarily a solo instrument played by ladies of the French court. The alto performs a consort role similar to that of the now defunct second violin in the violin family, lying between the treble and tenor.
The violone, the double bass of the family, was used in orchestral situations to double the cello or bass viol line. It can be really effective in the great Purcell 6 and 7 part viol consorts.
The Division Viol was again a solo instrument specifically designed to be easier to play fast passage work by keeping the instrument smaller than the consort bass.
The larger six and later seven stringed consort basses were designed to produce rich bottom notes which is why the added seventh string was lower than the bottom string of the six stringed bass which preceded it.
The lyra viol was a unique species of viol designed to play unique material by composers like Tobias Hume.
---