The best option is to make one yourself. Mine was made by a friend who has a workshop in his garage.

If the stand is to be stable when the largest sizes of recorder are in place, the base must be large and heavy. My stand has a base of solid walnut 15" x 6" x 1 3/4" which is both heavy and attractive.

Several holes are drilled into the base.

1 - 1" hole 6 3/4" offset lengthwise (8" from the opposite side) and centred widthwise for great bass
1 - 3/4" hole 4 1/4" offset lengthwise on the 8" side for bass
1 - 1/2" hole 3 1/2" offset lengthwise on the 6 3/4" side for tenor
1 - 3/8" hole 1 1/2" offset lengthwise, 2" offset widthwise on the 8" side for alto

The 3 remaining corners have 1/4" holes at that same 1 1/2" x 2" offset for soprano, sopranino, and garklein.

[note from Brian Blood: I recommend the dowels be 1/2 the bore length of sopranino, soprano/descant, alto/treble and tenor and 1/3 the bore length of the bass and greatbass.]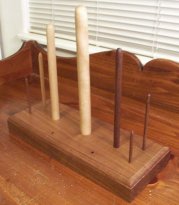 Since he made it, I've added 3 more 1/4" holes where I could find space for miscellaneous other recorders I've needed at various times.
This base is very stable. It has a simple rubbed oil finish. The only thing to note is the wooden dowels had to be sanded slightly where they enter the base if you want to remove them later. Of course, if you don't need to remove the pegs you can always glue them into the base using a wood glue (PVA). The top end of the dowels were rounded over. Also there was a chamfer (bevel) routed around the top edge of the base to give it a professional look.
Oh, and one last comment! If you don't want the pegs to warp give them a good oiling too!