Optional Classes - Recorder Orchestra
conductor: Brian Blood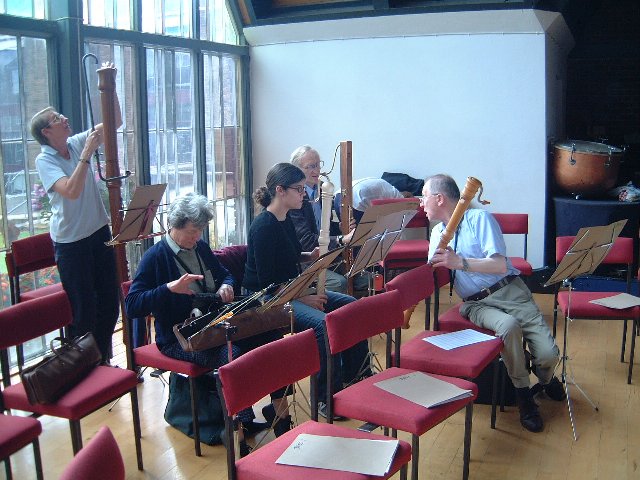 This popular daily session is open to all recorder players on the course. If you play one of the larger basses (great bass in C, contra-bass in F, sub-contra-bass in C or sub-sub-contra in F) you will be particularly welcome as there are dedicated parts for each if not all sizes of larger bass in most recorder orchestra scores. Last year we had a good number of great- and contra bass recorder players in the summer school recorder orchestra.
All the playing parts will be provided and the music covers a wide variety of styles and periods.
All participants are allocated specific instruments in order that the parts are properly balanced. If you make clear which size of recorder you would prefer to play you will normally be allocated a part on that instrument. During the week you are free to exchange your part with that of another player which will not unbalance the orchestra while giving you the opportunity to play on other sizes of recorder. Some parts are more difficult than others while some works are more difficult than others. We have found in the past that players of all abilities from grade 3 upwards can, with help, manage some of the sessions. You will be expected to be able to sight-read but there is generally enough time to come back to works later in the week by which time you will have been able to study the part a little more carefully.
These sessions are immensely enjoyable and a summer school such as ours offers a rare opportunity for those who are not recorder orchestra members to experience an unusual combination of sonorities.
The Recorder Orchestra works to modern pitch (A=440Hz).
---
Orchestra di Flauti Dolci - direttore: Brian Blood
Questa sessione giornaliera, molto richiesta, è aperta a tutti suonatori di flauti dolci del corso. Se suoni il flauto grande basso in Do, il flauto contra-basso in Fa, il sub-contra-basso in Do o il sub-sub-contra in Fa, sarai particolarmente benvenuto, visto che la maggior parte degli spartiti per orchestra di flauti dolci contengono parti dedicate a questi strumenti gravi. L'anno scorso, durante il corso estivo, nell'orchestra di flauti dolci, ci sono stati molti strumentisti del grande basso e contrabbasso di flauto. Saranno fornite le musiche nei vari stili e periodi..
In modo di poter ottenere un buon equilibrio fra le parti, a ciascun partecipante si assegnerà uno strumento. Si può indicare la propria preferenza allo strumento desiderato. Durante la settimana ci si può scambiare liberamente lo strumento, cercando naturalmente di non alterare l'equilibrio dell'orchestra dando così l'opportunità di provare altre misure di strumento. In passato abbiamo constatato che tutti gli strumentisti dal grade 3 in su, con aiuto, possono prendere parte alle sessioni. Si richiede una buona prima vista, anche se in genere c'è tutto il tempo necessario per studiare durante la settimana.
L'Orchestra di flauti dolci offre un'esperienza divertente e formativa allo stesso tempo, soprattutto per coloro che non hanno la possibilità di suonare in orchestra e di provare l'inusuale combinazione di sonorità.
L'Orchestra accorda con il La moderno (440 Hz).
---
Orquesta de flauta dulce - director: Brian Blood
Esta sesión popular queda abierta a todos los flautistas de pico que participen en el curso. Si tocan una gran flauta bajo (gran bajo en do, contra-bajo en fa, sub-contra-bajo en do, o sub-sub-contra en fa) serán especialmente bienvenidos puesto que en la mayoría de las partituras orquestales para flauta dulce hay partes dedicadas a cada uno de ellas si no de todos los tipos de gran flauta bajo, En el curso del año pasado tuvimos buen número de flautistas de la gran y contra bajo que tocaron en la orquesta de flauta dulce. Se facilitarán todas las partituras y la música abarcará gran variedad de estilos y periodos.
A todas los alumnos participantes les asignamos instrumentos específicos para que las partes queden bien equilibradas. Si precisan el tamaño de flauta dulce que prefieren, normalmente les podemos asignar una parte sobre ese instrumento. Durante la semana tendrán derecho a cambiar su parte con la de otro músico. Así, sin dejar la orquesta desequilibrada les ofrece la oportunidad de tocar otros tamaños de flauta dulce. Algunas partes son más difíciles que otras. Nuestra experiencia previa nos enseña que todos los instrumentistas de un nivel superior al examen de tercero pueden con las sesiones, con nuestra ayuda. Se esperará que saben repentizar pero generalmente suele haber el tiempo de repasar las obras más tarde durante la semana para cuando habrán podido estudiar la parte más cuidadosamente.
Estas sesiones son muy amenas y una escuela de verano como la nuestra ofrece una oportunidad rara para que los que no sean miembros de una orquesta de flauta dulce puedan experimentar una combinación de sonoridades poco común.
La orquesta de flauta utiliza un diapasón moderno (La=440Hz)
---