Optional Classes - Viol Consorts
director: Marguerite Dolmetsch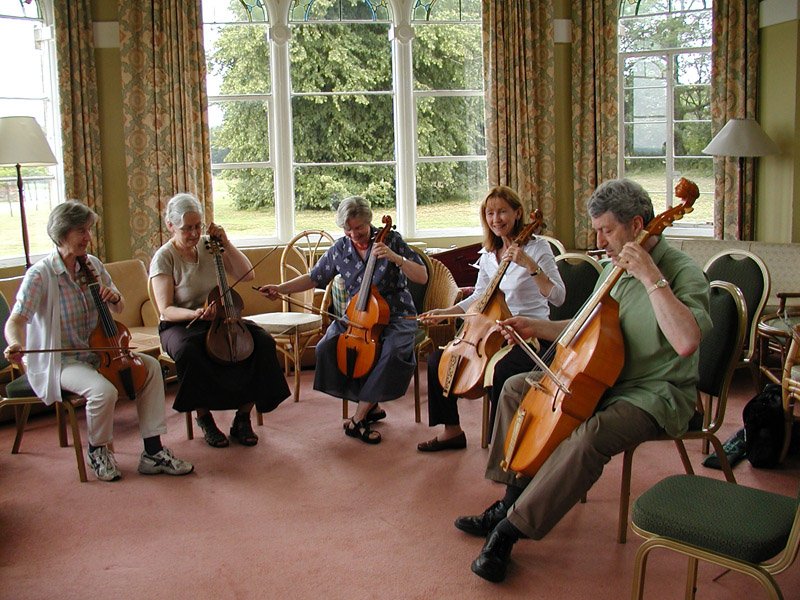 Marguerite Dolmetsch directs a daily afternoon session of viol consort playing for intermediate and experienced players. If you are travelling and cannot bring a viol, it may be possible for you to hire an instrument for the week but please contact us before the course to check that this is possible. All music will be provided.
The consort plays at low pitch (i.e. a=415Hz).
We regret that there are no opportunities for absolute beginners to play during these formal sessions.
---
Consort di viole - direttrice: Margherite Dolmetsch
Margherite Dolmetsch dirige la sessione pomeridiana del consort di viole, livello intermedio per strumentisti con esperienza. Agli strumentisti sforniti di strumento, sono disponibili in affitto per tutta la durata del corso. Gli spartiti saranno forniti.
Il consort suona con il La a 415Hz.
Siamo spiacenti ma gli allievi al livello principiante non possono suonare durante queste sessioni formali.
---
Consort de viola da gamba - directora: Marguerite Dolmetsch
Marguerite Dolmetsch dirige una sesión diaria por las tardes de tocar en consort de viola da gamba para los instrumentistas de nivel intermedio y superior. Si vienen de fuera y no pueden llevar una viola, puede que sea posible alquilar un instrumento para la semana. Se facilitarán todas las partituras.
El conjunto toca en el diapasón de La=415Hz.
Lamentamos no poder ofrecer oportunidades para los principiantes que no saben absolutamente nada durante estas sesiones formales.
---
Les Consorts de Viole de Gambe - direction: Marguerite Dolmetsch
Marguerite Dolmetsch dirige une séance quotidienne de Consorts de viole, pour des musiciens de niveau moyen et supérieur. Si vos voyagez et ne pouvez pas apporter une viole, il vous sera possible de louer un instrument pour la semaine. Toutes les partitions seront fournies.
Les consorts jouent à un niveau bas (i.e. a=415Hz.)
Nous regrettons de ce qu'il ne soit pas possible pour les débutants absolus de jouer pendant ces séances formelles.
---