Marguerite Dolmetsch L.R.A.M.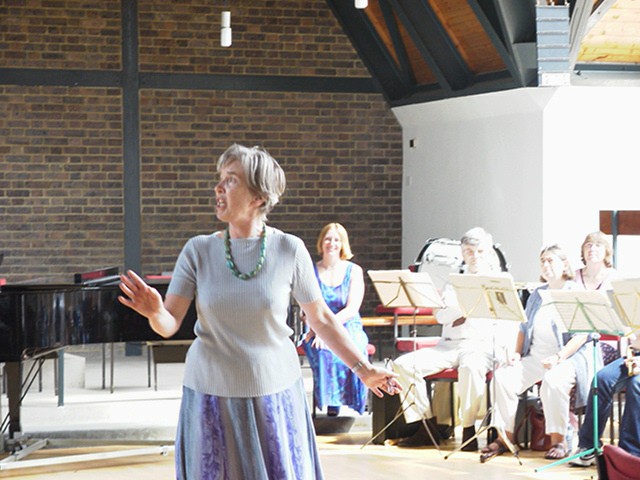 Marguerite Dolmetsch, younger twin-sister of Jeanne, daughter of Dr. Carl Dolmetsch and grand-daughter of Arnold Dolmetsch, was taught recorder, viol and harpsichord from an early age by her father before following a traditional education, studying viola and piano at the Royal Academy of Music, London.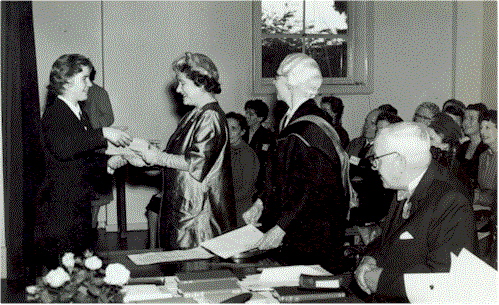 Marguerite Dolmetsch receiving her examination certificates
from The Queen Mother; Royal Naval School annual speech day in 1959
She has traveled the world and has recorded, on recorder and viol, with a wide variety of artists including Dame Janet Baker, the Academy of St. Martin in the Fields, Sheila Armstrong, Paul Esswood, Igor Kipnis, Kathleen Livingstone, Malcolm Messiter, Bernard Partridge and Frank Preuss as well as being a member of The Dolmetsch Consort and The Dolmetsch Ensemble. She is in great demand as a teacher of recorder and viol and as a Music Festival adjudicator. Until the workshop closed in 2010, she directed the recorder production at the family company Dolmetsch Musical Instruments.
Click here for a list of some of her earlier recordings; also here.
Marguerite is a member of the panel of visiting conductors of The Society of Recorder Players.
She and her husband Dr. Brian Blood have a daughter, Arabella, and twin sons, Jonathan (who completed his M.Eng. in Civil and Architectural Engineering at The University of Bath and now works as a structural engineer in the nuclear industry) and Benjamin (who works as an IT consultant). Brian and Marguerite live in Haslemere, Surrey.
---